The much anticipated products from Sipeed, The M1S Dock and M0 Sense are now being delivered to customers. Mine arrived in the U.S on December 20, to my surprise as the tracking number never fired on USPS Informed Delivery and Fedex did not announce the delivery. These were purchased boards and are not prerelease.
M1S Dock
M1S Dock is a board with the Bouffalo BL808 Processor. It features three RISC-V cores: one 480Mhz 64-bit -T-head D906 variant that's similar to the one in Allwinner's D1 (including the outdated 0.7.1 vector unit, alas), one 320Mhz T-Head 32-bit E907 for coprocessing, and one low-power 150 Mhz T-Head RV32EMC core for super low power use, such as keyword recognition to awaken the others on demand. As a bonus, it contains NPU BLAI-100 (Bouffalo Lab AI engine) for video/audio detection/recognition.
The M1S Dock starts at $10.80 for the board with headers and ranges to $24 with camera, LCD, and case.
The device supports:
2.4 GHz 802.11 b/g/n Wi-Fi 4
Bluetooth 5.x dual mode (classic + BLE)
IEEE 802.15.4 for Zigbee
10/100M Ethernet through add-on board
There is 64MB of RAM and a "real" MMU with RV32, so while you're not going to run your favorite Fedora workstation-class configuration on it, a 'normal' embedded Linux kernel and supporting utilities is quite practical.
Optional peripherals from Sipeed, pictured below, include the display, a debug board (which features yet another RISC-V part, the BL706, to bit-bang the debug protocol (which appears to NOT be JTAG), a camera, and a hard plastic case.
Assembling the case is best described as painful. While it looks like a flexible silicone case, it's not. It's a hard plastic with a rubbery texture. The screen has to be removed from the double-stick tape holding it to the board, have the screen passed through the hole, have the screen fastened to the board, and then the board threaded into the case. Since the double-sided tape for the screen has a small area, I'm not expecting to be able to remove and re-insert the screen very many times. If I'd known what a pain it was, I wouild have certainly soldered down the provided .100 posts before mounting it.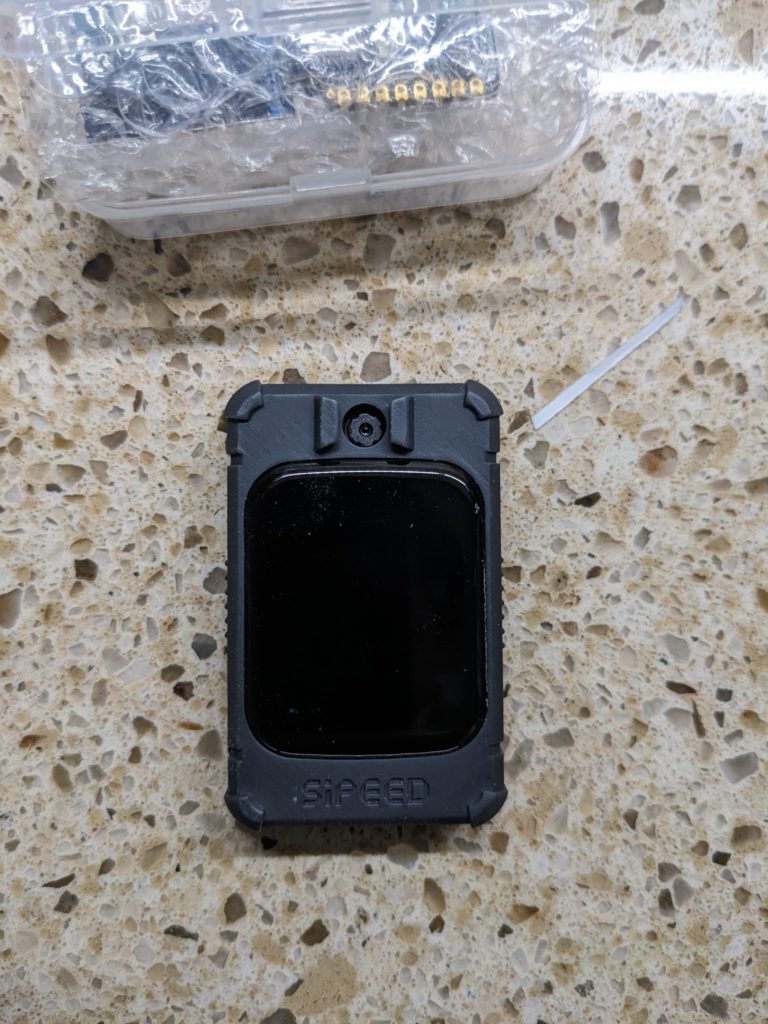 Sipeed has done well providing documentation for the M1S Dock, including pinouts, a full SDK (with Bouffalo Labs) , AI Model and Framework, and a handy drag & drop approach to burning firmware. and many M1S Dock demos.
M0 Sense
Also delivered are the M0Sense boards. These are a lovable little alternative to nRF52480-class hardware. The featured processor is the BL702 at 144Mhz. Twelve of the sixteen pins are available I/Os and the board comes with Bluetooth, including BLE. The SiFive core is attached to 132K of ram and 512K of flash. The board provides an IMU and a USB Full-speed (12Mbps) interface. Computationally they may not take the dual-cores (and PIO) of the RP2040 products, but these are great alternatives in the RISC-V world that offer easy programming and plenty of powerful I/O.
The board starts at $4.50 USD. Adding the .96 screen makes it $5.99.
Sipeed has done well providing documentation for the M0Sense, including pinouts, a full SDK (with Bouffalo Labs) , AI Model and Framework, and a handy drag & drop approach to burning firmware. and many M0 Sense demos.
Summary
Between these boards, you have a very low-end sensor board with ML abilities for $4 that includes I2C, SPI, and all the normal things to connect to your own sensors AND a relatively high-end MCU with a dedicated ML coprocessor. With M1S Dock being a cousin to Pine64's OX64, we're sure to see a ton of software development around them. They've taken the sharp edges of Bouffalo's unpleasant boot loader by providing a drag-and-drop capable boot loader. The BL808's available RAM, performance, and price really makes it difficult to lean into the Kendryte K210 class of boards as we enter 2023.
I really look forward to exploring these boards in coming weeks and months. What do you plan to do with them?